Chopped, Cut, and Rebuilt '67 Chevelle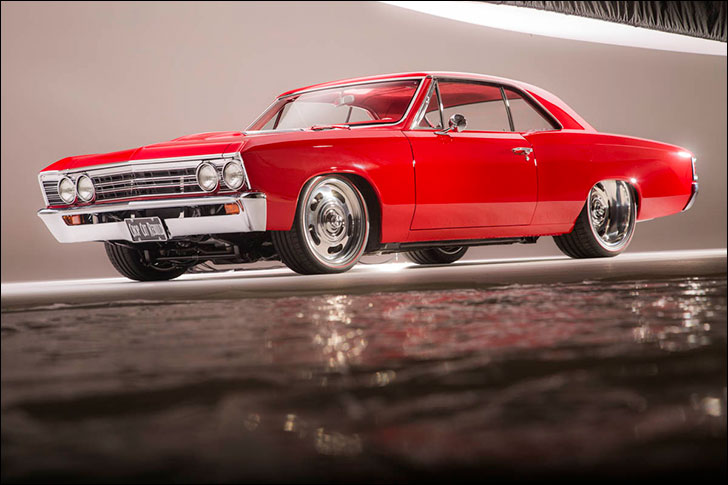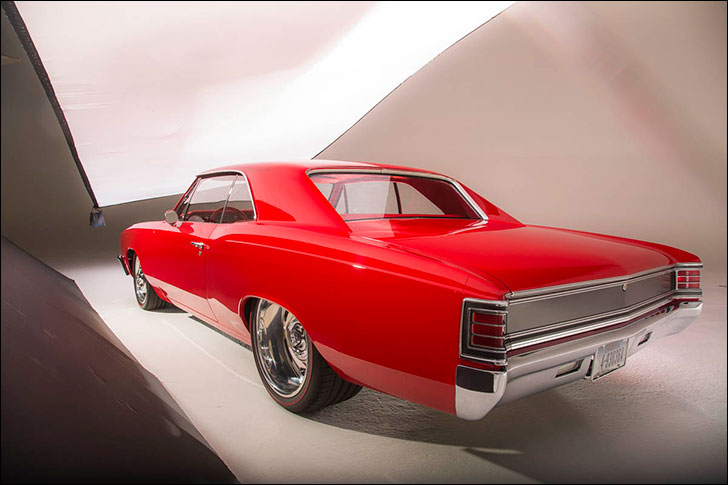 AMD, CCR and AMC punch out another winner
Don't worry if those acronyms went right over your head, as you read the following article on this stunning '67 Chevelle, they'll click. Chop, Cut, Rebuild is a television program where host Dan Woods follows the build of a classic American car; check it out on MAVTV. The premise behind this Chevelle was to find the rustiest '67 around, have Auto Metal Direct replace the sheetmetal to bring the carcass back to OEM standards, and then ship it to American Muscle Cars for final assembly.
A crusty hulk was located outside of Atlanta, and the AMD crew went to work. It's refreshing to see a high-end build like this start with a truly rough car; too many times we've seen a so-called 'rusty hulk' located in the desert get all new sheetmetal while those of us in the rust-belt look on with a stack of grinding discs and dust in our lungs. When the A body was torn down, everyone in the shop looked at one another in surprise, as the Chevelle was in worse condition than previously thought. Craig Hopkins and his crew at AMD got to work cutting, welding and replacing the vintage tin with high quality replacements, and in no time, the body was in like-new condition.
Photos courtesy of superchevy.com
http://www.superchevy.com/features/1507-1967-chevelle-chop-cut-rebuild-sema-2014-show-stopper/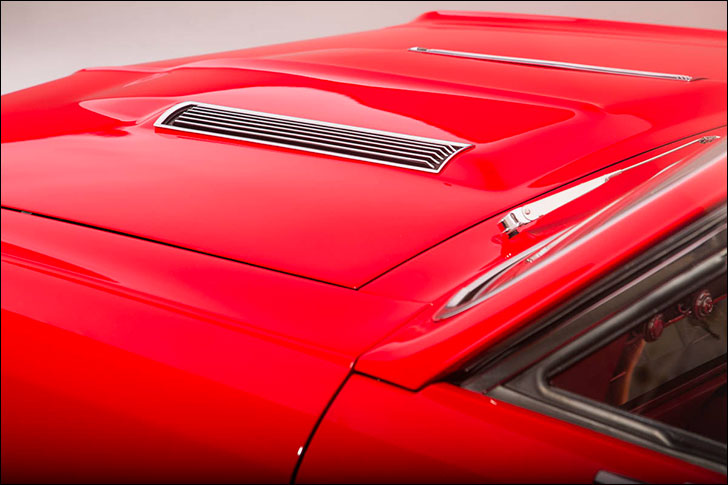 After being transported to California, Sal and the gang at American Muscle Cars dove into aligning the new sheetmetal, massaging the gaps and prepping the body for paint. While they were at it, the bumpers were snugged up to the body, relieved of their bolts and chromed to perfection by Advanced Plating. The front and rear wheelhousings were modified to accommodate the aggressive stance planned, and the hood was custom built in house. In order to match the rendering, AMC used a portion from a cowl induction scoop to create a raised center section, but retained the original SS vents. The exterior color was finally agreed upon, and PPG mixed up a special color called "American Muscle Cars Red".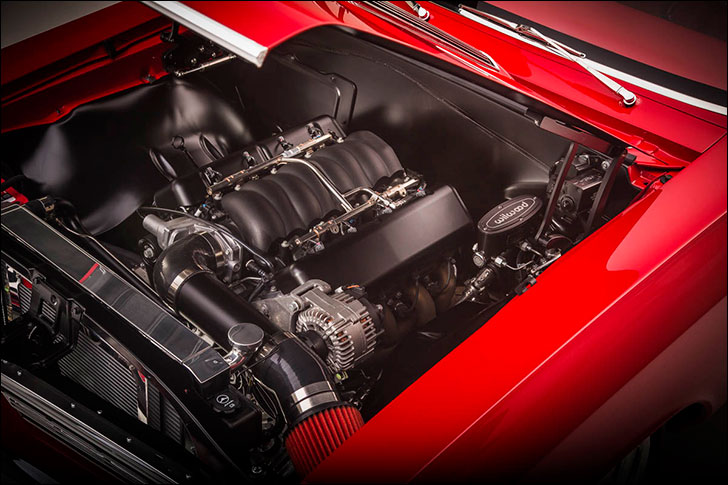 The original chassis was boxed and tucked in the rear to make way for Circle Racing Wheels 20x12 rally wheels wearing 315/35 Falkens. A Currie F9 housing holds on via ABC Performance four-link bars and Viking Performance shocks and springs. Up front you'll find ABC Performance control arms with taller spindles from Detroit Speed for improved geometry. Coupled with the two-inch drop afforded by the spindles, the Viking springs finish the job of setting the 'Velle low over the 18x8 rallies. Under the custom hood you'll find a GM Performance LS3 crate motor. Spec'd at 376 cubes, the fuel injected wonder is rated at 525hp. It's connected to a Tremec T56 Super Magnum six speed transmission.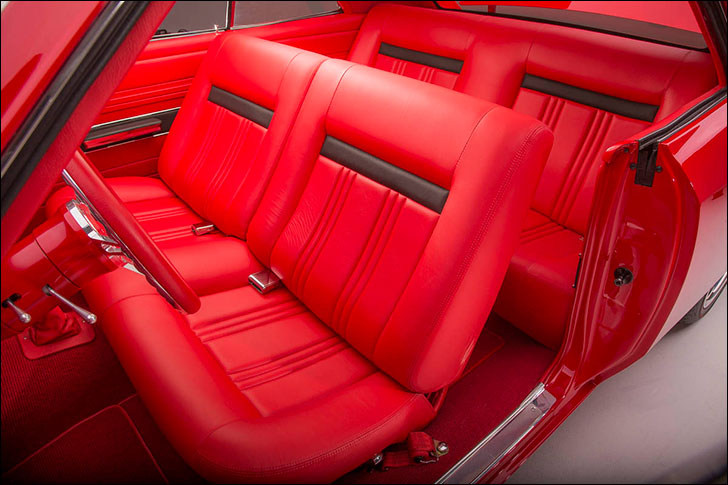 Renowned upholstery master Ron Mangus applied his skill to the interior, covering the stock '67 Chevelle bench seats with red and black leather. The German square-weave carpet matches the Mangus -made door panels; the Flaming River column and dash were hosed with the same paint as the body before a VHX-66C-CVL instrument system with a Black Alloy Face and white backlighting was nestled into a stock gauge bezel. While he was at it, Ron Mangus made a leather dashpad and custom kick panels to house Arc Audio speakers.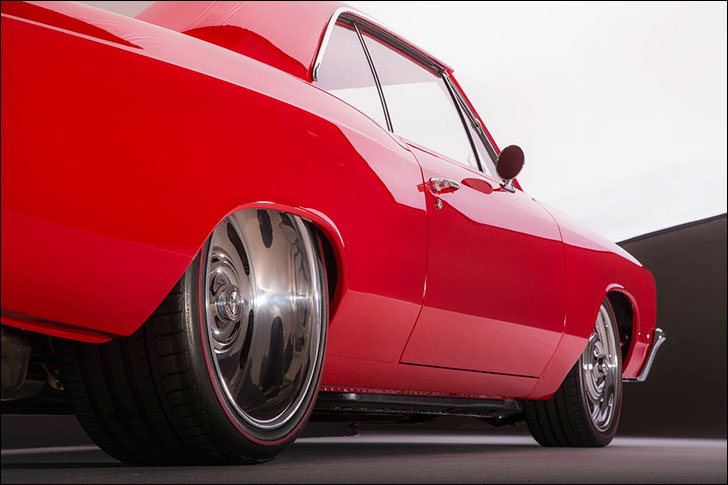 All in all, the finished product looks like a nice Chevelle to the casual onlooker, but closer inspection by a pair of knowing eyes reveals a highly modified custom car. I think that's what it's all about; flying under the radar, hiding in plain sight, and stopping people in their tracks. Looking at what they started with versus the finished product, it's safe to say this 1967 Chevy was indeed chopped, cut and rebuilt.