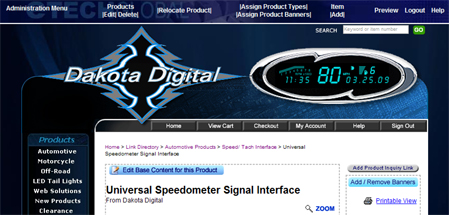 Ecommerce solutions seem like an odd offering for a +12volt electronics company, no doubt about it. But with as many people as we have told about the website we are using, EtechGlobal, we wondered why we're not doing more with it. So, we decided to partner with EtechGlobal to bring their ecommerce solutions to our customers. We believe it's a fantastic system and we should let more people know about it.

"One of the biggest selling points to us is the ease of maintenance and ability to make changes on the fly. Whether it's new products, price changes, product manuals or anything in between, we are making changes and updates to our website daily….and it's not the IT department making these changes! The system is so simple to use and maintain that our sales department handles all aspects of it, no software or code-writing skills necessary." -Ross Ortman, President

It's common knowledge that a website is crucial to nearly any type of business. Not only is a website a direct reflection of your company, it's really become the default standard for many people to find your products or services. Using search engines such as Google and Yahoo; positioning your company as high in the search results as possible is of paramount importance. Don't you want to be found before your competitor? One of the many unique benefits of the Etech Global system is they submit your website quarterly to the common search engines, increasing your position and making you easier to find!

So, while we're not traditionally a website company, we now represent a stellar system for small to medium sized businesses. An affordable system; the EtechGlobal platform is something we would certainly like to show you and display how it can benefit your company.

Feel free to contact a sales representative to learn more:
Contact Us